Your potential customers are visiting your website on their mobile devices more and more often. Fortunately, it's now possible to display a 
Mobile Express Page
 for these visitors to show them all the most important details about your business up front.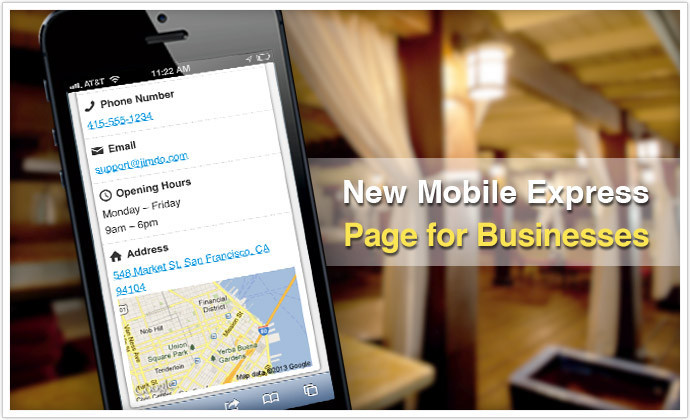 Express your site
These days, we're always on the go. We rely on our mobile devices to keep us on track, using them to find basic information about all the businesses we visit on a daily basis. Our smartphones know it all: The new address of our favorite Thai restaurant, how late our dry cleaner stays open, the phone number for our kids' daycare center, and a billion other little pieces of information that we could never keep track of before.
If you run a small business, it's important to consider what your website looks like, and what kind of information is easily accessible when people view it on mobile devices. For a while now, Jimdo has handled the first part of that with the 
Mobile View option
. Now, with the addition of the Mobile Express Page, Jimdo has it all covered.
Express yourself
Customers don't have much time to find the information about your business that they're looking for, so it's important for your website to organize that information in an easy-to-find, easy-to-read format. The Mobile Express Page helps your website do just that. Your regular website is still there in mobile view if a visitor wants to dig deeper, too.
Activate the Mobile Express Page in Settings > Mobile > Mobile Express Page, and then fill out all of the relevant fields: Description, Phone Number, Email Address, Opening Hours, and Address. All fields are optional, so only fill out the ones you want to display on the page.
With the new Mobile Express Page, your mobile website gets straight to the point, and helps customers get straight to your business.