How Yelp Can Help Improve Your Local Business
This is a guest post written by SMPLE, the simplest tool for optimizing your online marketing strategy.
Yelp can have a tremendous effect on local businesses. One study found that a single star increase on Yelp translated to a
5 to 9% increase in revenue
. A Yelp profile filled with four- and five-star reviews can inspire confidence in potential customers. In short, good reviews go a long way toward generating business.

With that in mind, here are some tips to help you create an excellent listing on Yelp. Here are some of the benefits you'll get from following our advice:
Improve your search rank on Yelp for relevant searches
Increase your ability to turn visitors to your Yelp profile into customers
Encourage fans of your business to become advocates on your Yelp page
And, hopefully, all of these will lead to more revenue. After all, that's the ultimate goal for any business.
Let's get started with the basics.
Claim your profile
After creating a Yelp account, your next step should be claiming your profile.
You'll want to start by seeing if there's already a
listing for your business
. If there is, you can claim it by following Yelp's guidelines. If there isn't, you can create one.
You can also claim your page by searching for your business in Google and seeing if a Yelp page exists. If it does, visit it and click "Work here? Claim this business." Claiming pages on Yelp, Google Places, and others is an important part of
local SEO marketing for small businesses
.
Once you claim your page, you'll have access to the Yelp Business Dashboard. This gives you access to statistics about how many people have visited your listing, and, more importantly, the ability to edit information about your business.
Fill out as much information about your business as you can. Most importantly, include your hours, contact information, specialties, history, and a website. If you don't already have a website, you can
start one for free
so that your customers have a place to find information about your business that isn't on your Yelp listing.
Putting as much information as possible makes it more likely that your business gets found when people search using filters.
Acquire reviews
Now that you have updated your Yelp listing with current information, it's time to gather some reviews. You may already have reviews on your page, but now you're in a great position to ask your biggest advocates to write a great review on Yelp to spread the word about your business.
A quick note: the wrong way to go about Yelp reviews is paying for them. There's a high probability that you'll be
flagged by Yelp
with a "Consumer Alert," reducing the chance that a potential customer trusts you enough to do business with you. It's not worth the risk.

The right way to get Yelp reviews is to advertise the fact that you're on Yelp and kindly ask for reviews. There are lots of ways to do this—some straightforward and some more creative—whether you have a physical storefront or not.
Most importantly, you'll want to place some signs on your physical storefront or your website. You can find a number of great images on
Yelp's Flickr page
. Make sure to print these images professionally, or follow this tutorial to
add a Yelp badge to your website
.
One less obvious way to get great reviews is to provide great service. Many people value customer service as much as (or even more than) the product itself. We've listed several other ways to get more Yelp reviews on our blog.
Upload great photos
An
internal Yelp study
found that people spend more than twice as much time on Yelp pages with photos. Yelp's recent redesign places a tremendous emphasis on photos, so make sure that you upload some high quality images to help visitors get to know your business even better.
As a business owner on Yelp, you can upload photos directly to your Yelp page. These photos can be of your brick-and-mortar store, your products in action, or something else that represents your brand. It's also possible for your customers to upload photos of your business or products to your page, which you should encourage. When your customers upload images, it's proof to visitors to your listing that they were satisfied enough with your service to take time to make a photo for you.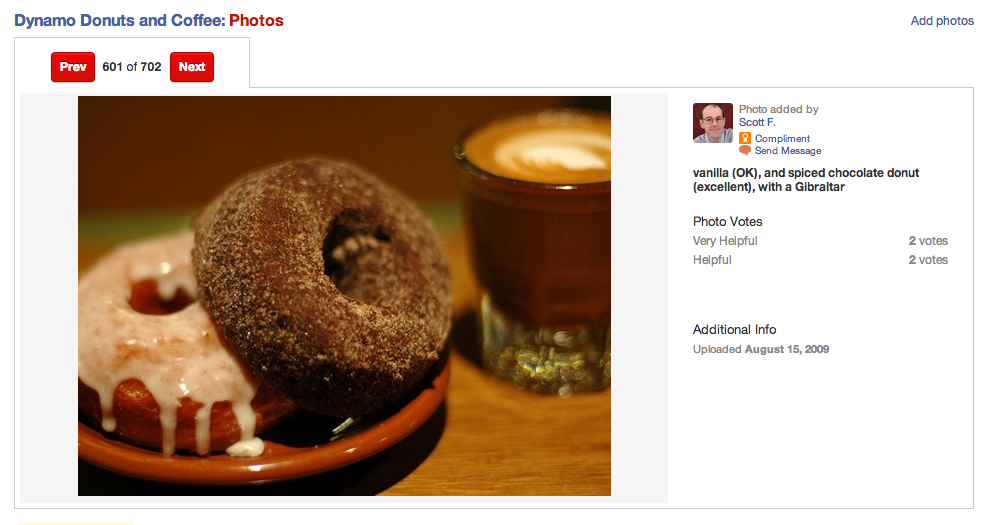 Once you've created an awesome listing, don't forget to keep track of it. Keep an eye out for new reviews, new pictures, and make changes and updates to your business information as required. You'll find a variety of tools—like our product, SMPLE— that help you stay on top of activity on Yelp and other social networks.
Have you already created a Yelp listing? What has your experience been with creating and maintaining a profile?