Last year, we released a whole new catalog of Jimdo templates along with our
new user interface
. Since then, our designers in Hamburg have been hard at work adding even more choices to the collection.

Today, we're excited to introduce five options that are great for businesses, portfolios, or personal websites.
Meet Amsterdam, Lille, Reykjavik, Bordeaux, and Paris!
Like all Jimdo templates, they are easy to use and customize with your favorite colors, images, and fonts. You can preview a new template by
clicking on the Templates button in your Site Admin
. Don't like it? Don't worry—you can switch your template at any time without losing any of your content.
Below, we've asked our designers to tell us a little bit more about each template, and provide some design tips for how to use them best.
1. Amsterdam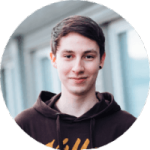 With Paris, the navigation is fixed in the top left corner, with huge spaces for a background image and logo. Its clean edges make it perfect for creating a modern-looking web presence. For example, a business website in simple black and white with an architectural background image could look great with this template. — Henrik Fricke
Design tips:
Paris works well with a clean image in the background and a modern, light font.
Since the navigation is fixed over the background image, don't use a background image with lots of colors—it will make your navigation tough to read.
Don't use Paris if you need lots of subnavigation menu options. Bordeaux would be a better option for that.
What do you think of the new options? Let us know which ones you'd like to try out, and share the results in the comments!