A Proven Twitter Marketing Strategy for Businesses
Since Twitter began in 2006, an entire school of thought has developed on marketing strategies,
best practices
, and
hacks
for the platform. But one of the biggest obstacles that businesses, marketers, and advertisers still face is making sure their well-crafted tweets reach the right audience and accomplish an overall goal of awareness, sales, or media coverage.
According to a report by
Shareaholic
, Twitter provides the fourth most engaged social network for post-click interaction, after YouTube, Google+, and LinkedIn. In other words, if someone clicks on your link via Twitter, they are more likely to spend time on your site, click on more of your pages, and otherwise "engage" with your content.
So if your business is trying to drive traffic to its website, it's time to become more active on Twitter. But with over 271 million monthly active users with tons of different interests, how do you find the right audience and— more importantly—how do you reach them? I've outlined a sure-fire Twitter marketing strategy to do so, along with the specific tools that can help you get it done.
Determine the 'right' Twitter audience
The first step to reaching the right audience is
determining who your audience is
. A new cupcake shop will likely have a vastly different audience than a musician trying to get new fans. One way to identify your audience is to picture your target demographic as a specific person. For example if you are a small indie band, this person could be a twenty-year-old male college student who enjoys video games, sports, and concerts. With that, you have a starting point on both the demographic and location you want to target.
Once you've nailed down your audience, the tools below will help you search for the right Twitter users you can connect with: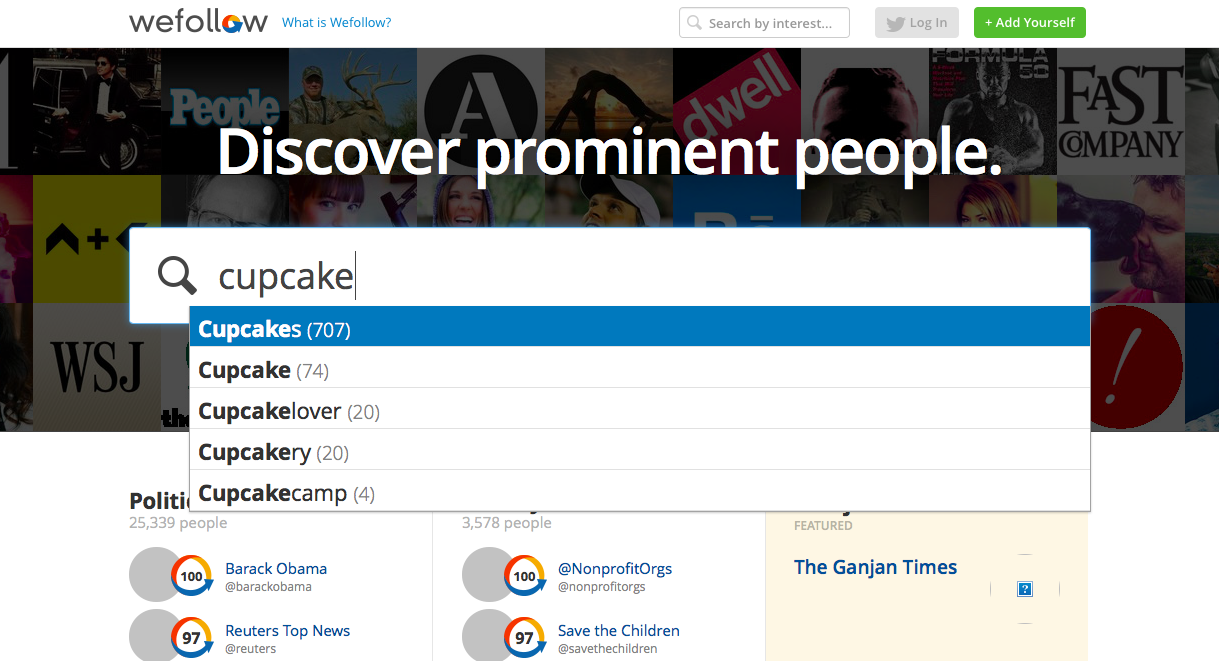 Engage your audience with the right tweets
Now that you've determined the right audience, how are you going to create tweets to keep them engaged and avoid the dreaded "unfollow"?
Create content specifically for Twitter. It's typically frowned upon to auto-connect your Facebook and Twitter accounts as one because it appears lazy, repetitive, and prevents you from tailoring your content per platform. The content you share on Facebook should be different than the content you share on Twitter.

 

As John McDermott of DigiDay points out, Twitter tends to be for sharing hard news while Facebook is for friends, family, and fun. For example, of the two major trending topics in the U.S. right now, the feel-good A.L.S. Ice Bucket Challenge dominates Facebook, while the protests in Ferguson, MO have taken over Twitter. People go to Facebook to find more personalized stories and updates, while Twitter is more of a public forum for discussing news, ideas, and opinions.

 

Stick with your brand's authentic voice. We can't all be Katy Perry and have over fifty-five million followers. But what Katy does well is stick to being herself, which is why she's popular in the first place. Create a voice for your business and maintain it. If you have multiple people tweeting from your account with different styles it will be obvious and sloppy.

 

Content should be informative and provide value. Unlike Facebook where you become friends due to a real life relationship, you follow people on Twitter out of interest. You can likely explain why you follow each account on Twitter. I follow this account for shopping coupons, this account for comedic relief, this account for breaking news, and this account for travel tips.

 

If you aren't sure what to tweet, think about your business' value propositions. Your tweets should fall in line with those themes, as well as any related ones. If you're a photographer you can offer tips to taking great photos, where to buy the right camera, or share inspiring photos from other photographers. You can also find content to share on sites like feedly and Alltop.


 



Maintain a balance of content. You should take advantage of your following by sharing tweets specific to your business. Don't shy away from sharing company news or promotions. The trick is to share an equal or greater amount of content not specific to your company to gain your audience's trust and maintain their interest.
Leverage your industry influencers
Once you determine your audience and feel confident in your own tweets, start to leverage influencers in your space. Influencers provide a cost-effective way to get your skillfully constructed tweets seen. But what some how-to guides fail to tell you is how to find these influencers and how to interact with them. Here are some tips to remember:
Influencers can be vastly different from industry to industry. It is important to determine the right influencers for your specific business and for your specific goals. If you are a small business, try to keep it local.

Influencers come and go. If you search "top influencers for musicians" in a search engine, take note of the date of the post and make sure the list is still up-to-date.

Influencers don't reply to just anyone. If you reach out to an influencer to call upon their help, explain why promoting your business will also help them. Will you expand their network? Will their followers benefit from the product or service you offer?

Influencers are not fans of users and abusers. You wouldn't make a new friend, ask a favor, and never speak to them again. Stay in communication and provide constant value in order to get the same in return.
Take a look at how Taco Bell and White Castle interacted with supermodel Chrissy Teigen to promote their brands.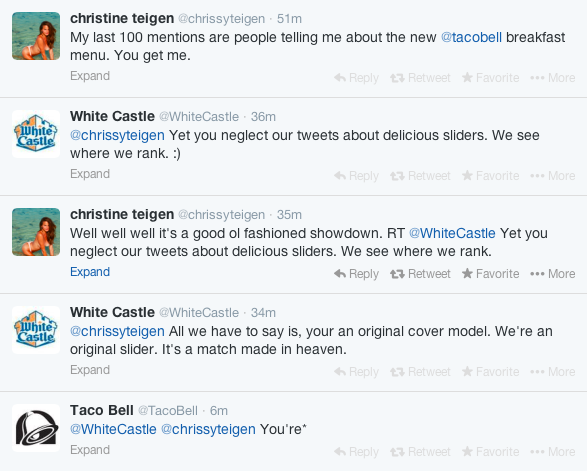 Analytics: test and learn what works best
As any marketer will tell you, one of the main ways to communicate ROI is to provide analytics. But as Jay Baer explained in
a recent blog post
, eighty percent of analysts' time is spent gathering data and twenty percent is spent analyzing. In reality, these numbers should be reversed.
Analytics provide a tool for trial and error. Try out a new time to tweet, share a new style of content, or switch up the frequency of your tweets. There are several studies that report the
best times to post to Twitter
, but you should take the time to learn what works for your own audience.
Before you analyze your data create a set of questions to help clarify what you are trying to learn:
How many quality followers—influencers or potential customers—does my Twitter account have?
How many of these quality followers actively engage with my Twitter account—retweets, favorites, mentions?
How many clicks are each of my tweets getting and what type of content seems to be the most popular?
How many sales has Twitter generated for my business?
There are many great analytics tools that can help you answer these questions, with varying costs:
Google Analytics: a free tool that allows you to track how much traffic Twitter has driven to your site.
Twitonomy: a freemium service thats provides specific information on keywords, hashtags, and interactions with other Twitter users.
Commun.it: my favorite tool for monitoring the number of interactions, who to follow/unfollow, top tweets, and more. It ranges from free to $29.99/month.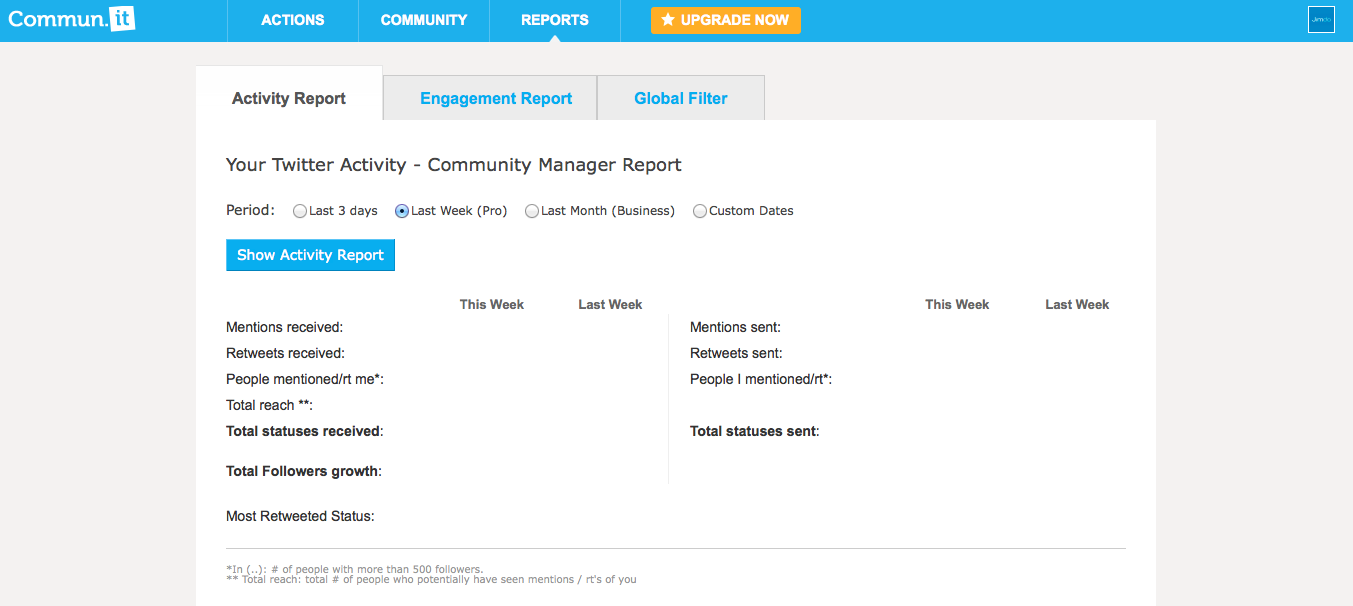 Twitter business marketing 101
To sum it all up, here are the key takeaways to start building a Twitter marketing strategy:
Determine your audience. Create a fictional person that embodies the characteristics of your target audience, so you know some of the qualities to look for.

2. Create the right content. Focus on creating content that adds value to your followers. Post content that your followers can't live without.

3. Leverage influencers. Find specific influencers for your business and engage with them.

4. Analyze your output. Use an analytics tool to track how well your tweets are performing and if they are in fact reaching your target audience.
Please share your ideas on how to reach the right audience on Twitter by reaching out to us on—you guessed it—
Twitter
. Happy tweeting!
---
Melissa Myers
Content Marketing and PR at Jimdo
Melissa joined Jimdo in August 2014 to support social media, public relations, and the blog. She has experience in marketing ranging from event management to content marketing. When Melissa isn't drafting a blog post, you can find her watching stand-up comedy, attending a concert, or rooting for the Oregon Ducks.
---