Lessons from Opening an Office Abroad (San Francisco)
At the beginning of 2011, I moved from Hamburg, Germany (where Jimdo's headquarters are located) to San Francisco, to open our office here. I want to share what I've learned so far during these 2 years. The focus will be mostly on general lessons (not SF- or US-specific) related to starting a new office far away.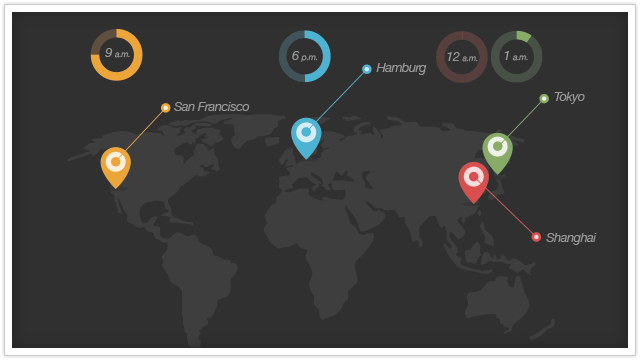 Let me start with explaining how I imagined our new office before we actually started it. It's interesting, because I was so horribly wrong about so many things, and I've seen these mistakes at many other companies that tried to implement this strategy.
My basic idea:
The people from our different offices are going to be one team.
They'll do projects together, have meetings together.
They'll be integrated together into our internal workflows.
I'll stay connected with my co-founders easily with daily video calls.
This was all so completely wrong. I realized pretty fast that this wasn't going to work.
Important meetings for our teams took place without even letting us know (out of sight, out of mind). Meetings were scheduled at a time when the other team had no chance to take part (due to the 9 hour time difference). A lot of communication happens during the day at the coffee machine, in hallways etc.. There's no way to replicate this between offices, and I really believe trying too hard is ineffective and frustrates everyone.
The same thing happened with my co-founders. When we talked I was usually just starting my day, while they had a full day behind them. The calls could be exhausting and usually weren't fun. That led to us talking less, and if you don't manage to talk daily, you forget things, and you start to disconnect. We figured out how to handle this among the three of us. We switched from trying to connect often to doing our own stuff and moving things forward in each of the offices. I went to Germany every six weeks, and we spent one or two days completely outside the office to reconnect. This was really important for us as a founding team, and it worked out well.
This illustrates the most important lesson of all:
Your team abroad needs their own mission and the resources to accomplish that mission. There's nothing worse than always waiting for something from the other office or being dependent on their decisions or workflows. It poisons any chance of innovation if you have a good idea you want to try, but you need to ask someone and wait at least one day for an answer. A satellite office needs to be as independent as possible, especially when there's a significant time difference.
I've even decided to hire a CEO for our US office to encourage the independence.
There's a lot more that I'd like to explain in follow-up blog posts. My ideas so far are:
Build a strong connection between teams by sending people to work at the other office.
Online communication only works if it's build on personal connections
How our partnership with KDDI in Japan compares to having our own office there.
Separate offices, separate cultures. How to keep a global company culture
Separating the founding team to open new offices
Why the smaller offices always feel that they're missing something from the headquarters
Back to basics: an office in another country means setting up HR, taxes, benefits, again
How we keep communication flowing in a growing company with different offices
Let me know what you think and share your questions in the comment. I'll pick those up in following posts.
---
Christian Springub
Co-founder at Jimdo
When Christian was 12, he started his first business, buying and selling Kinder Surprise collectible toys at flea markets. Just a few years later he met up with Fridtjof, and the two started creating websites for small businesses in their hometown. Christian currently takes care of Jimdo's operations and helped start the U.S. office in San Francisco.
---